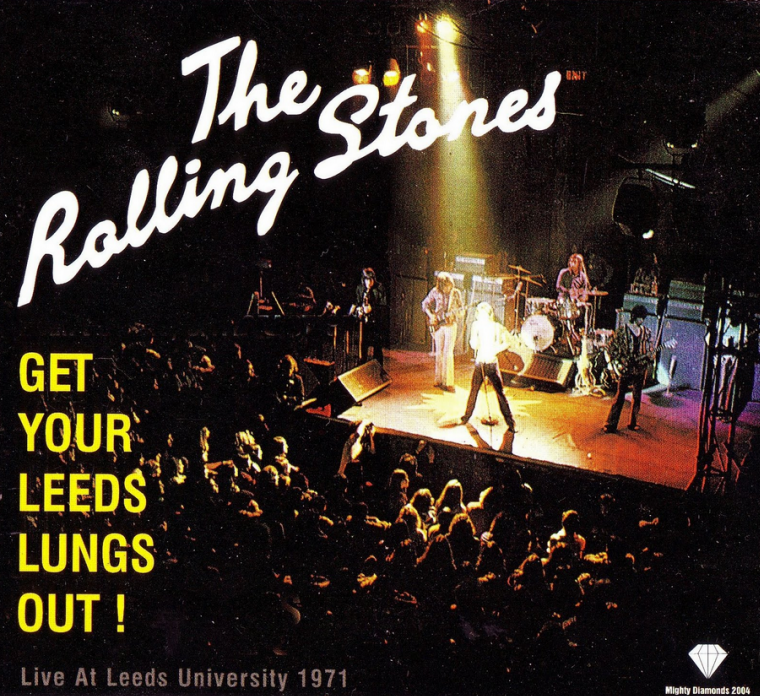 [vc_row][vc_column][vc_message message_box_color="mulled_wine" icon_fontawesome="fa fa-quote-left"]This hour long recording, originally made for the BBC at Leeds University on 13th March 1971, and bootlegged in the 1970s on vinyl as "Get Yer Leeds Lungs Out", is easily the finest unissued live music by the Rolling Stones. In fact the last 45 minutes from Midnight Rambler on is arguably some of the best music they ever recorded.
~David Mainwood (Stranger Than Known)[/vc_message][/vc_column][/vc_row]
This is a strong contender for "Best Stones Bootleg".
Leeds University
March 13, 1971
Dead Flowers
Stray Cat Blues
Love In Vain
Midnight Rambler
Bitch
Honky Tonk Women
Satisfaction
Little Queenie
Brown Sugar
Street Fighting Man
Let It Rock
[vc_row][vc_column][vc_message message_box_color="mulled_wine" icon_fontawesome="fa fa-quote-left"]…Jagger talks to rather than shouts at the audience. The Watts / Wyman / Richards rhythm section has the funky looseness soon to be recorded on Exile On Main Street and there is a tight rhythm guitar / lead guitar interplay between Richards and Taylor, both of whom instinctively know when to leave space for the other. Taylor's playing is arguably better on the '72 American tour however on that tour the band tended to pay everything too fast and a lot of the funk present here was lost. This is a recording of a band with a virtuoso lead player who is however playing within, and functioning as a part of the band, rather than in front of it, as Eric Clapton, Alvin Lee or Johnny Winter would have done. It isn't about the guitar player it's about the music. It's about the "roll" as well as the "rock" as Keef said. This is a prime recording of the "roll" in the Rolling Stones.
~David Mainwood (Stranger Than Known)[/vc_message][/vc_column][/vc_row]

–
[vc_row][vc_column][vc_separator][vc_btn title="Alldylan / Borntolisten @ Facebook" color="blue" i_icon_fontawesome="fa fa-facebook-official" add_icon="true" link="url:https%3A%2F%2Fwww.facebook.com%2FJohannasVisions%2F||target:%20_blank|"][/vc_column][/vc_row][vc_row][vc_column][vc_message message_box_style="outline" icon_fontawesome="fa fa-link" css_animation="bounceIn"]
Check out:
[/vc_message][/vc_column][/vc_row]
-Egil