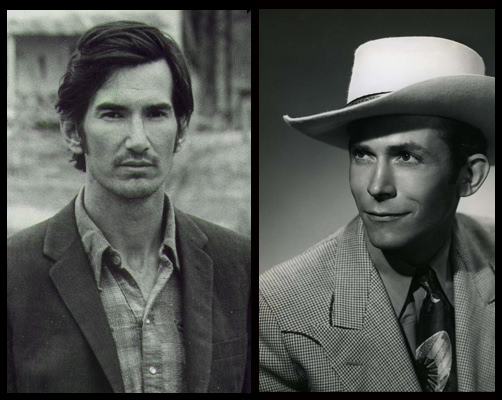 Hank Williams (September 17, 1923 – January 1, 1953), born Hiram King Williams, is regarded as one of the most important country music artists of all time. Williams recorded 35 singles (five released posthumously) that would place in the Top 10 of the Billboard Country & Western Best Sellers chart, including 11 that ranked number one.Hank Williams died in 1953 and Townes Van Zandt died in 1997
John Townes Van Zandt (March 7, 1944 – January 1, 1997), best known as Townes Van Zandt, was an American Texas Country-folk music singer-songwriter, performer, and poet. Many of his songs, including "If I Needed You," "To Live is to Fly," and "No Place to Fall" are considered standards of their genre.
Hank Williams, Lovesick Blues:

Townes Van Zandt, Snowin' on Raton:

Both Hank Williams and Townes Van Zandt are extremely important to us at JV and to the world of Americana music, it would be difficult to try to explain their profound influence on many of the artists that we care about. We will let the music speak for itself.
Here are my 10 top Hank Williams songs (revised today):

And follow the link to hear my favorite songs about Hank Williams.
and here are my top 10 Townes Van Zandt songs:

May they both rest in peace in the tower of song!
Frank Stokes (January 1, 1888 – September 12, 1955) was an American blues musician, songster, and blackface minstrel, who is considered by many musicologists to be the father of the Memphis blues guitar style.
– Hallgeir