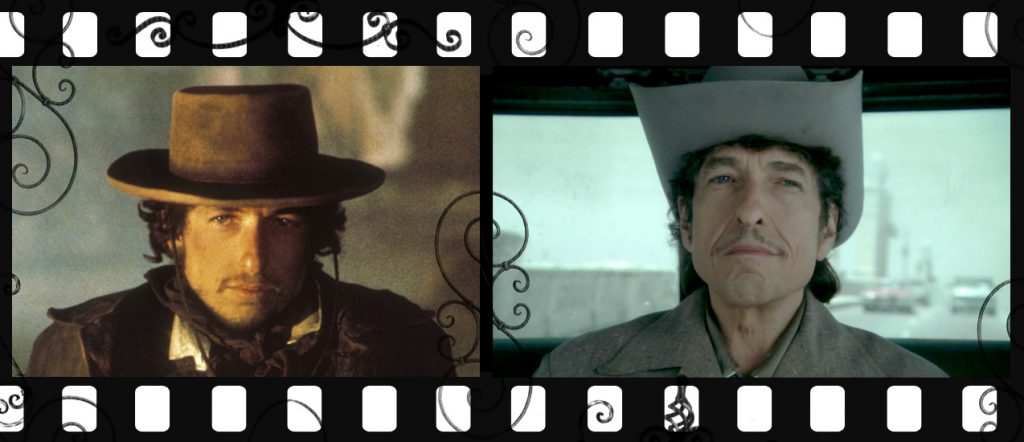 This is a fun post, a post with some of those moments that makes a "Bob Dylan film" worth watching. There's no order here, just a listing of the clips I really like.
I have included films that had cinema distribution, not including straight documentaries (yet).
Some of the clips are great concert clips, some are cinematic milestones, some are just funny and some are Bob Dylan in theme and spirit, at least that's what I think.
And I have included one TV clip, it was just so damn funny, I couldn't leave it out!
By the way, James Mangold is making a new Bob Dylan film set during the period when he was poised to become folk music's most important figure. Bob Dylan instead chose rock 'n' roll and traded his acoustic guitar for an amp and an electric guitar, it created a huge outcry. Jeff Rosen, Dylan's longtime manager, is working on Dylan's behalf with Mangold on the film, which they say has no title yet but has been referred to as Going Electric. We will have to update this post when the film is ready.
Ok, lets start
Rolling Thunder Revue: A Bob Dylan Story
I was thinking a bit about this one, "maybe I should have included Scorsese's Rolling Thunder film, but isn't it a documentary no matter how "dramatised" it is?" As you can see I decided it should be included, it is a documentary, kind of, and it is a made up story, kind of, with worldwide release on Netflix. And Netflix is the new cinema, right?
Rolling Thunder Revue: A Bob Dylan Story by Martin Scorsese (or Conjuring the Rolling Thunder Re-vue: A Bob Dylan Story by Martin Scorsese, according to the main title graphic) is a 2019 American pseudo-documentary film, composed of both fictional and non-fictional material, covering Bob Dylan's 1975 Rolling Thunder Revue concert tour. Directed by Martin Scorsese, it is the director's second film on Bob Dylan, following 2005's No Direction Home. The bulk of Rolling Thunder Revue is compiled of outtakes from Dylan's 1978 film Renaldo and Clara, which was filmed in conjunction with the tour.

Trailer, Rolling Thunder Revue: A Bob Dylan Story:

Director Martin Scorsese on what inspired him to make Rolling Thunder Revue: A Bob Dylan Story:

Masked and anonymous:
Masked and Anonymous is a 2003 comedy-drama film directed by Larry Charles. The film was written by Larry Charles and Bob Dylan, the latter under the pseudonym "Sergei Petrov". It stars iconic rock legend Bob Dylan alongside a star-heavy cast, including John Goodman, Jeff Bridges, Penélope Cruz, Val Kilmer, Mickey Rourke, Jessica Lange, Luke Wilson, Angela Bassett, Bruce Dern, Cheech Marin, Ed Harris, Chris Penn, Steven Bauer, Giovanni Ribisi, and Michael Paul Chan. 
For the live clips alone its worth your time, but I also really like the quirky humour and the colourful characters. Sit down with an open mind, love the music and prepare yourself for something very very different

Cold Irons Bound

I'll remember you (maybe the best version I've heard of this song!):

Dharma and Greg:
Dharma & Greg is an American television sitcom that aired from September 24, 1997, to April 30, 2002.
It stars Jenna Elfman and Thomas Gibson as Dharma and Greg Montgomery, a couple who got married on their first date despite being complete opposites.
The TV clip I wrote about at the top of the post, just enjoy, our man seems to have a helluva time!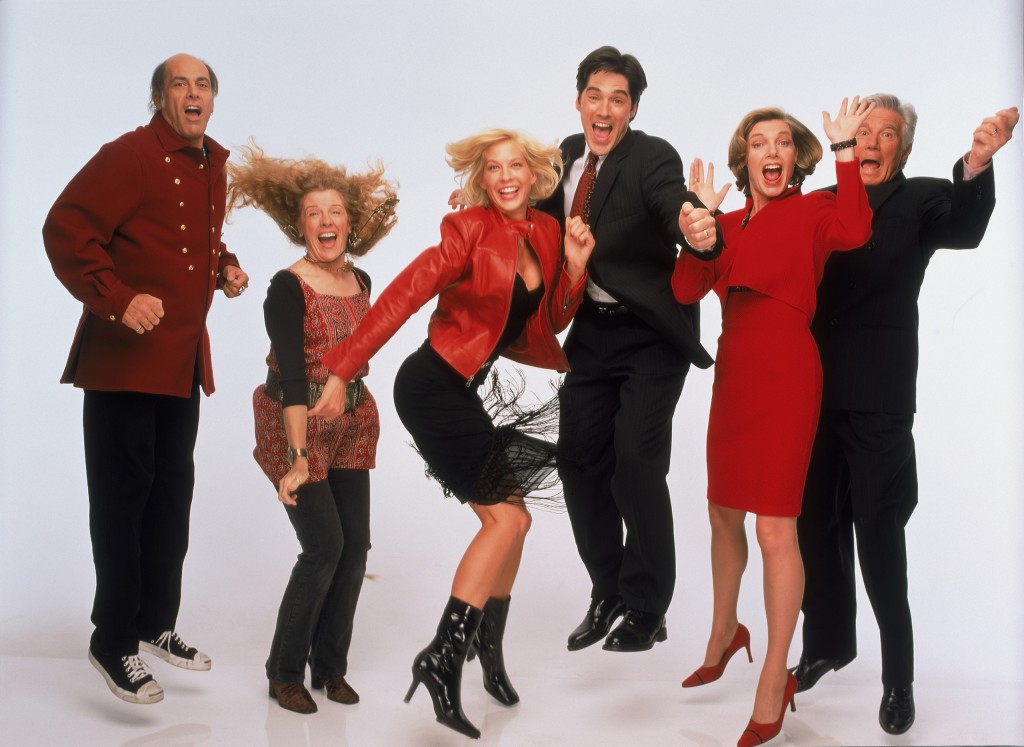 Dharma auditions to play to drums in Bob's band, really funny and sweet and Dylan seems to have a great time.

Hearts of Fire:
Hearts of Fire is a 1987 American musical drama film starring Bob Dylan, Fiona Flanagan (billed only as "Fiona") and Rupert Everett. The film was essentially a vehicle for Dylan based on his success as a rock musician. It received poor reviews, a limited theatrical release.
Really bad movie, the clip I've included is the only redeeming part of the whole film. So bad it's good, almost…
Couple more years:
Pat Garrett and Billy the Kid:
My favourite western of all times, sometimes/some days it is my favourite movie regardless of genre. I will do a post just about this film, but for now, enjoy some highlights and the best death scene in cinema history.
Pat Garrett and Billy the Kid is a 1973 American Western drama film directed by Sam Peckinpah and starring James Coburn, Kris Kristofferson, and Bob Dylan. Written by Rudy Wurlitzer, the film is about an aging Pat Garrett, hired as a lawman by a group of wealthy New Mexico cattle barons to bring down his old friend Billy the Kid.
Dylan composed several songs for the movie's score and soundtrack album Pat Garrett & Billy the Kid, which was released the same year. Filmed on location in Durango, Mexico, it was nominated for two BAFTA Awards for Film Music (Dylan) and Most Promising Newcomer (Kristofferson). It was also nominated for a Grammy Award for Album of Best Original Score (Dylan).
The film was noted for behind-the-scenes battles between Peckinpah and the production company Metro-Goldwyn-Mayer. Soon after completion, the film was taken away from the director and substantially re-edited, resulting in a truncated version released to theaters and largely disowned by cast and crew members. Peckinpah's preview version was released on video in 1988, leading to a re-evaluation, with many critics hailing it as a mistreated classic and one of the era's best films. It is ranked 126th on Empire magazine's list of The 500 Greatest Movies of All Time.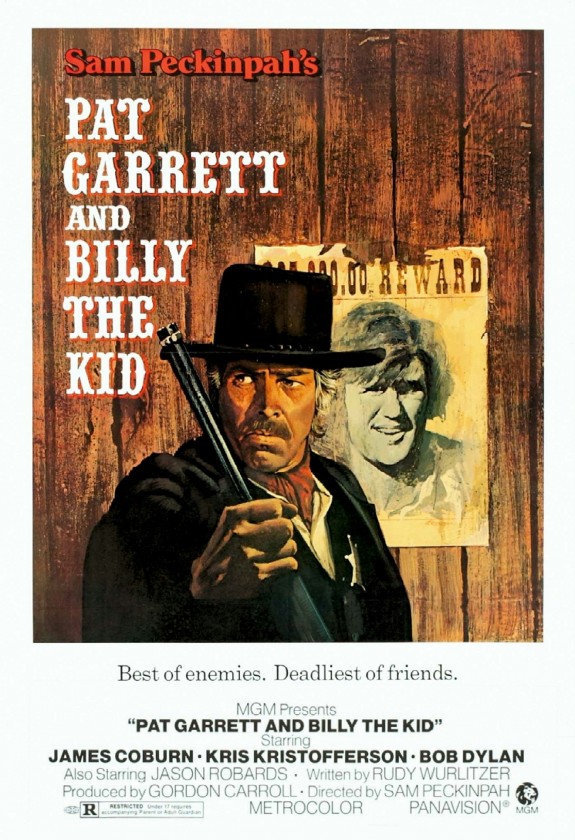 Bob Dylan – Billy surrenders, a great clip from the beginning of the film:
Bob Dylan aka Alias introduces himself to Billy: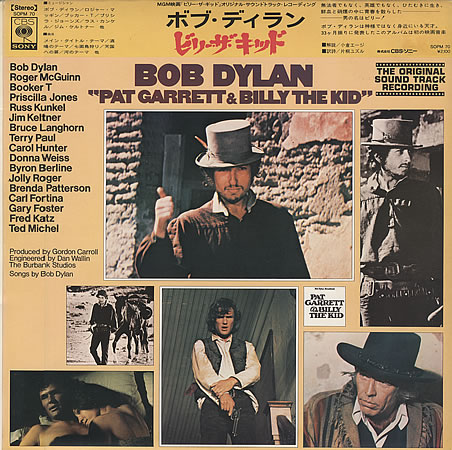 Knocking on heavens door, best death scene in movie history, makes me tear up every time!

Renaldo and Clara:
I've seen the movie a couple of times, it is quite confusing to be honest, but the music, oh Lord! Worth it for the concert footage alone.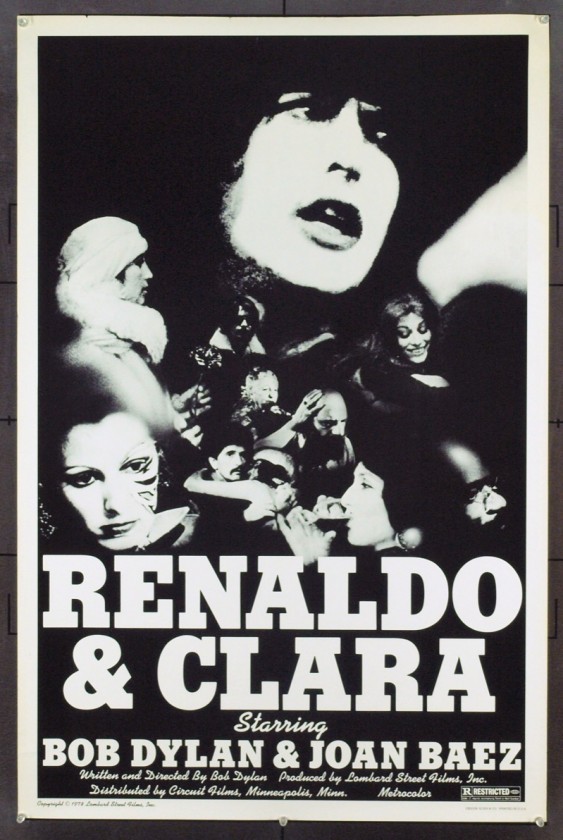 Putting on face paint and getting ready:
Tangled up in blue

Wonderboys:
Bob Dylan won an Oscar for the song Things have changed, he doesn't appear in the film, but the video is just a hoot, great humour, and the film is very good.
Wonder Boys is a 2000 comedy film directed by Curtis Hanson and written by Steve Kloves. The film was based on the novel of the same title by Michael Chabon. Michael Douglas stars as professor Grady Tripp, a novelist who teaches creative writing at an unnamed Pittsburgh university. He has been unable to finish his second novel, his young wife has left him, and he is having an affair with the Chancellor of the university (Frances McDormand), who is the wife of the chairman of his department. Grady's editor (Robert Downey, Jr.) is in town to see his new book and becomes interested in a book that one of Grady's students (Tobey Maguire) has just completed.
I cannot imagine Wonderboys without Bob Dylan.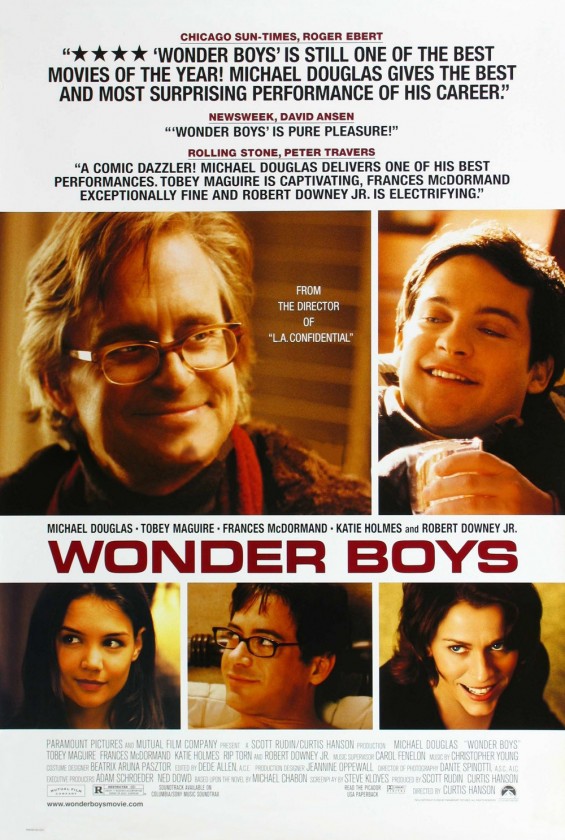 Things have changed

The Last Waltz:
You all know this Scorsese masterpiece, not much to say, the film is great the music is fantastic and we are working on a post about the different versions of the film.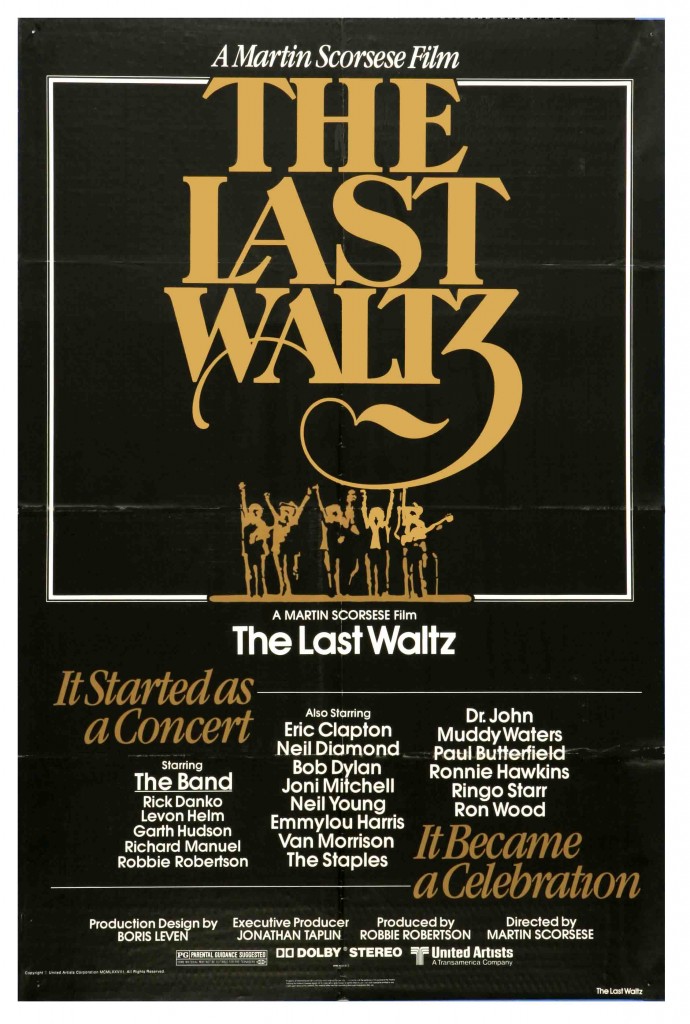 Forever Young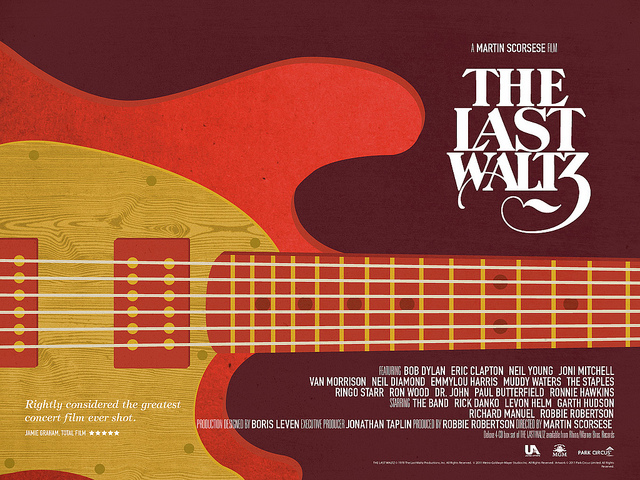 I Shall be released

The Concert for Bangladesh:
Another concert movie, the first big event concerts and it was filmed for cinema release, lots of wonderful artists, Bob Dylan is predictably good.
The Concert for Bangladesh (or Bangla Desh, as the country was originally spelt) was the name for two benefit concerts organised by George Harrison and Ravi Shankar, held at 2.30 and 8 pm on Sunday, 1 August 1971, playing to a total of 40,000 people at Madison Square Garden in New York City. The shows were organised to raise international awareness and fund relief efforts for refugees from East Pakistan (now Bangladesh), following the 1970 Bhola cyclone and the civil war-related Bangladesh atrocities. The concerts were followed by a bestselling live album, a boxed three-record set, and Apple Films'concert documentary, which opened in cinemas in the spring of 1972.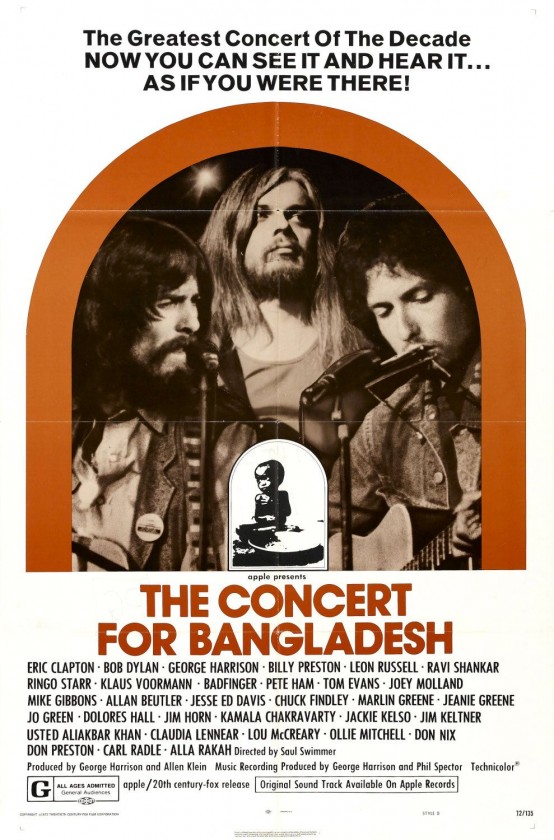 Hard Rain:
Love Minus Zero/No Limit:
Backtrack (aka Catchfire):
Catchfire is a 1990 action-thriller-drama film starring Jodie Foster, Dennis Hopper, and Fred Ward. Several other notable actors have cameos. The film was disowned by its director, Hopper, before release and he is therefore credited under the fictional pseudonym Alan Smithee. The original screenplay was written by Rachel Kronstadt Mann, then re-written by Ann Louise Bardach, who was hired by Dennis Hopper and producer Steven Reuther. During the 1988 Writers Guild of America strike, Hopper retained Alex Cox to do another polish while the film was shooting.
Hopper released a director's cut of the film in the United States on cable television titled Backtrack, which runs 18 minutes longer than the theatrical version.
Another not-so-good movie, but with a really funny cameo by Bob Dylan, love it when he do these things, he is a very funny man when he chose to be.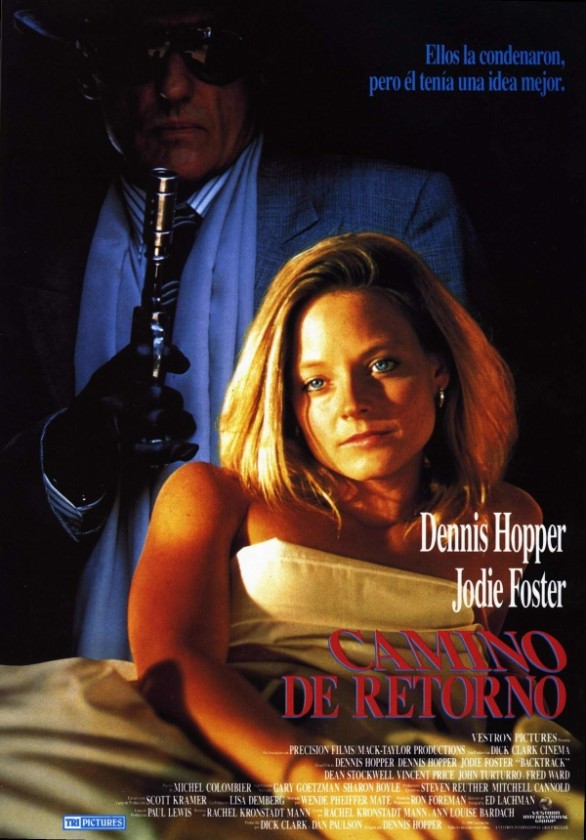 The clip is in poor quality, but the only one I could find.
I'm not there:
A film about Bob Dylan without Bob Dylan, great music and great acting by all the actors(!) playing Dylan. I think Tod Haynes has really captured the Dylanesque feel.
I'm Not There is a 2007 biographical musical film directed by Todd Haynes, inspired by American singer-songwriter Bob Dylan. Six actors depict different facets of Dylan's life and public persona: Christian Bale, Cate Blanchett, Marcus Carl Franklin, Richard Gere, Heath Ledger, and Ben Whishaw. At the start of the film, a caption reads: "Inspired by the music and the many lives of Bob Dylan". Apart from the song credits, this is the only mention of Bob Dylan in the film.
The film tells its story using non-traditional narrative techniques, intercutting the storylines of seven different Dylan-inspired characters. The title of the film is taken from the 1967 Dylan Basement Taperecording, "I'm Not There", a song that had not been officially released until it appeared on the film's soundtrack album. The film received a generally favorable response, and appeared on several top ten film lists for 2007, topping the lists for The Village Voice, Entertainment Weekly, Salon and The Boston Globe. Particular praise went to Cate Blanchett for her performance, culminating in a Volpi Cup from theVenice Film Festival, the Golden Globe Award for Best Supporting Actress, along with an Academy Award for Best Supporting Actress nomination.
The film was released two months prior to the death of the actor Heath Ledger, and was one of his last films.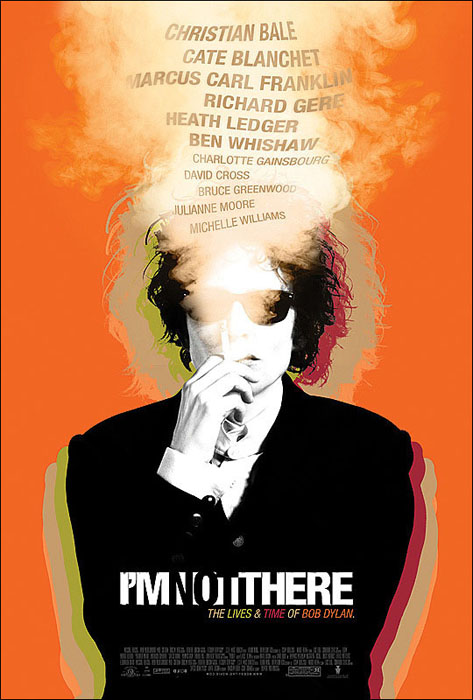 I'm Not There trailer:

Cate Blanchet plays Dylan (and sings!) depicting Dylan quite good I think
As far as we know both Dont Look Back and Festival had cinema distribution, and we were unsure if they should be included. We chose not to (at this stage).
And if there are any that we haven't included but should, please tell us in the comments 🙂