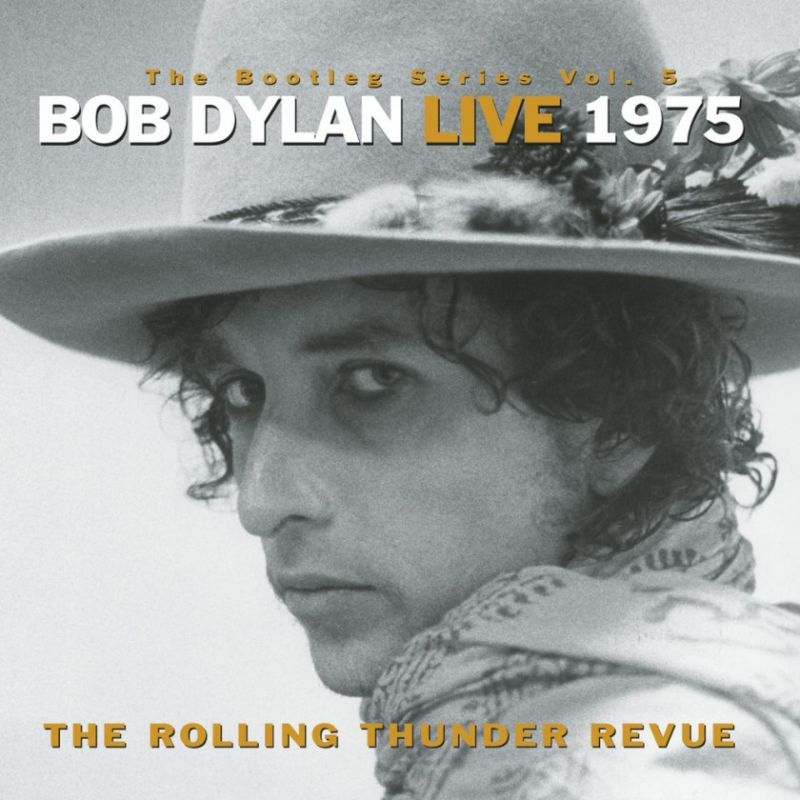 "I was just sitting outside my house one day thinking about a name for this tour, when all of a sudden, I looked into the sky and I heard a boom! Then, boom, boom, boom, boom, rolling from west to east. So I figured that should be the name."
– Bob Dylan
This is my favourite of Bob Dylan's bootleg series, and one of the best live albums ever released.
The Rolling Thunder Revue was a concert tour  Bob Dylan with a traveling caravan of notable musicians, including Joan Baez,Roger McGuinn, and Ramblin' Jack Elliott. Bob Neuwirth assembled the backing musicians, including T-Bone Burnett, Mick Ronson, David Mansfield, Steven Soles, and from the Desire sessions, violinist Scarlet Rivera, bassist Rob Stoner, and drummer Howie Wyeth. The tour included 57 concerts in two legs—the first in the American northeast and Canada in the fall of 1975, and the second in the American south and southwest in the spring of 1976.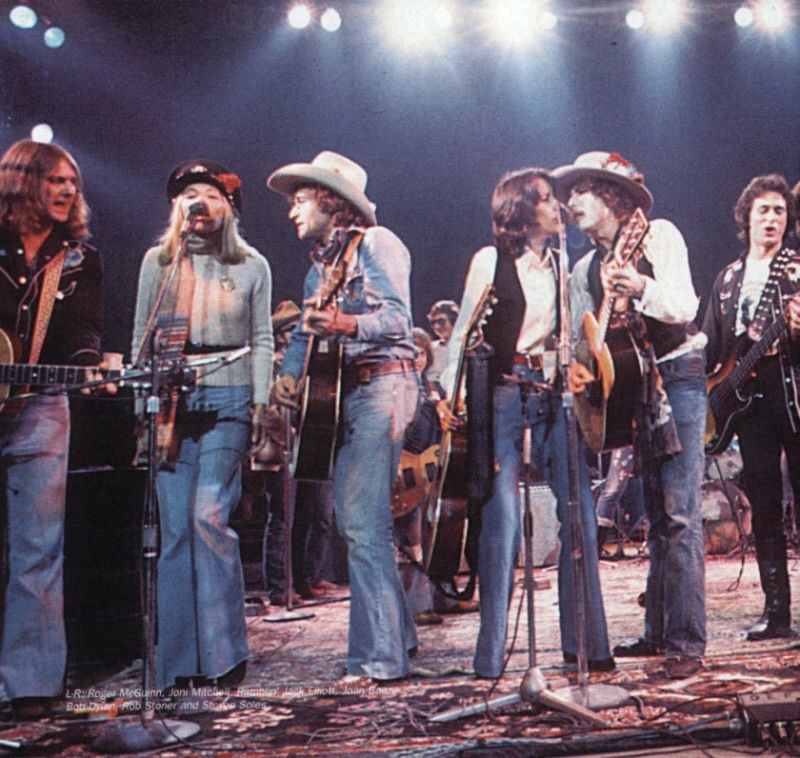 Tangled up in Blue:


The 2cd set documents the Rolling Thunder Revue, led by Bob Dylan prior to the release of the album Desire. Until the release of this album, the only official live documentation of the Rolling Thunder Revue was Hard Rain, recorded during the second leg of the revue.
The record set got a warm reception from critics and fans, though some lamented that it does not document, or emulate, a typical complete show from the tour. This was corrected with the release of Martin Scorsese's quasi-documentary, Rolling Thunder Revue: A Bob Dylan Story by Martin Scorsese and the corresponding box set, Bob Dylan – The Rolling Thunder Revue: The 1975 Live Recordings.  However, I still come back to The Bootleg Series Vol.5 Bob Dylan Live 1975, I think it is wonderful!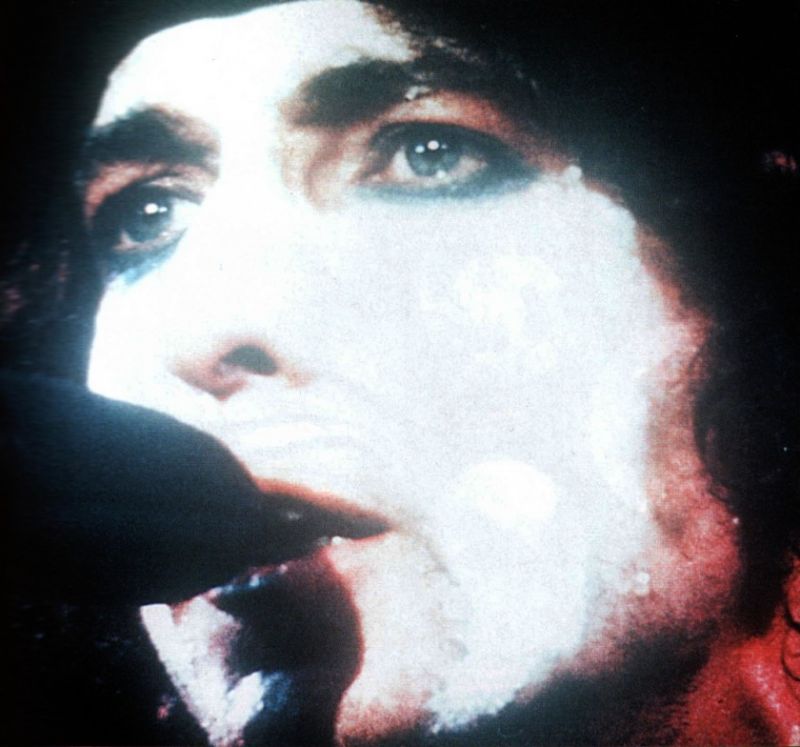 Track listing:
All the songs were written by Bob Dylan, except where noted. All songs recorded live in concert, the venues noted.
Disc one
"Tonight I'll Be Staying Here With You" (Forum de Montreal, Canada 12/4/75) – 3:55
"It Ain't Me Babe" (Harvard Square Theatre, Cambridge, MA 11/20/75) – 5:25
"A Hard Rain's A-Gonna Fall" (Forum de Montreal, Canada 12/4/75) – 5:16
"The Lonesome Death of Hattie Carroll" (Boston Music Hall, 11/21/75 – Second Show) – 5:25
"Romance in Durango" (Harvard Square Theatre, Cambridge, MA 11/20/75) (Dylan and Levy) – 5:22
"Isis" (Boston Music Hall, 11/21/75 – Second Show) (Dylan and Levy) – 5:11
"Mr. Tambourine Man" (Boston Music Hall, 11/21/75 – First Show) – 5:39
"Simple Twist of Fate" (Harvard Square Theatre, Cambridge, MA 11/20/75) – 4:17
"Blowin' in the Wind" (Harvard Square Theatre, Cambridge, MA 11/20/75) – 2:43
"Mama, You Been on My Mind" (Boston Music Hall, 11/21/75 – Second Show) – 3:11
"I Shall Be Released" (Boston Music Hall, 11/21/75 – First Show) – 4:33
Disc two
"It's All Over Now, Baby Blue" (Forum de Montreal, Canada 12/4/75) – 4:34
"Love Minus Zero/No Limit" (Forum de Montreal, Canada 12/4/75) – 3:13
"Tangled Up in Blue" (Boston Music Hall, 11/21/75 – Second Show) – 4:41
"The Water Is Wide" (Boston Music Hall, 11/21/75 – Second Show) (Traditional) – 5:16
"It Takes a Lot to Laugh, It Takes a Train to Cry" (Boston Music Hall, 11/21/75 – Second Show) – 3:12
"Oh, Sister" (Boston Music Hall, 11/21/75 – Second Show) (Dylan and Levy) – 4:04
"Hurricane" (Memorial Auditorium, Worcester, MA 11/19/75) (Dylan and Levy) – 8:15
"One More Cup of Coffee (Valley Below)" (Boston Music Hall, 11/21/75 – Second Show) – 4:14
"Sara" (Boston Music Hall, 11/21/75 – Second Show) – 4:29
"Just Like a Woman" (Boston Music Hall, 11/21/75 – Second Show) – 4:31
"Knockin' on Heaven's Door" (Harvard Square Theatre, Cambridge, MA 11/20/75) – 4:22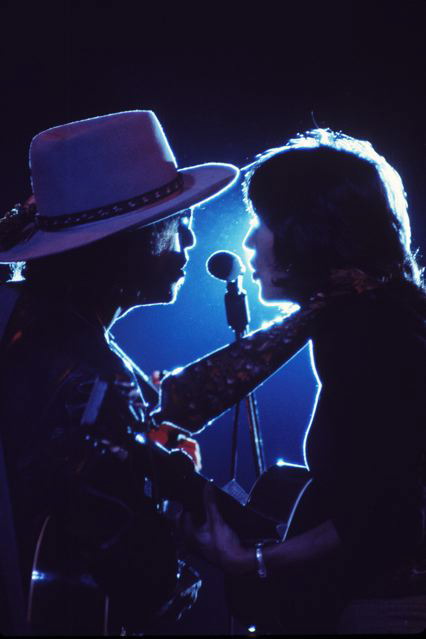 "…there's a charge in both Dylan's voice and the band's performance that is undeniable. "The Lonesome Death of Hattie Carroll," a veritable folk relic of Dylan's, get country-funked up. Wide canvas epics like "Romance In Durango" and "Isis" are given jittery, frenetic readings, with Scarlet Rivera's pseudo-gypsy fiddle exploding on the latter's chorus. And the acoustic numbers like "Tangled Up In Blue" attain a level of quiet, simmering energy to rival him at his sixties best.

By the finale, "Knockin' On Heaven's Door," featuring six guitarists(!), Live 1975 has left the listener worn out – spent. If that's not the complete show, maybe I'm a little scared to hear the whole thing. "
– Max Weiner, Stylus Magazine
The Bootleg Series Vol  5 Bob Dylan Live 1975 on Spotify: