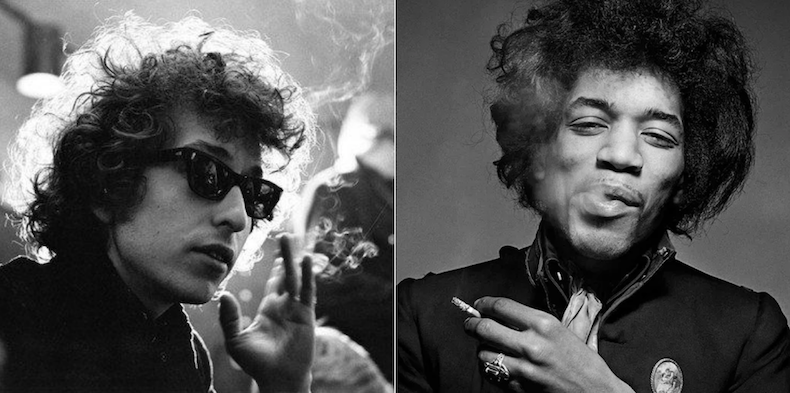 James Marshall "Jimi" Hendrix (born Johnny Allen Hendrix; November 27, 1942 – September 18, 1970) was an American rock guitarist, singer, and songwriter. His mainstream career lasted only four years, but he is widely regarded as one of the most influential guitarists in history and one of the most celebrated musicians of the 20th century. The Rock and Roll Hall of Fame describes him as "the greatest instrumentalist in the history of rock music".
Can You Please Crawl Out Your Window?
A Bob Dylan single, released in December 1965, reached #58 on the US Billboard Hot 100 chart and #17 on the UK chart in January 1966.
Live Filmore East May 10, 1968

Tears of Rage
Written by Bob Dylan (lyrics) and Richard Manuel (melody) and recorded by Dylan and The Band on The Basement Tapes and by The Band on Music from Big Pink.
Jimi Hendrix & Paul Caruso at Jimi's hotel room, New York City, March 1968. Released on "West Coast Seattle Boy: The Jimi Hendrix Anthology"


Drifter's Escape
Written by Bob Dylan and recorded for his 1967 album John Wesley Harding. Columbia Records released it as a single in the US and the UK in 1969 as the B-side to "I Threw It All Away". The song was recorded in four takes on October 17, 1967.
Recorded at Electric Lady Studios on June 17, 1970 & released on the album "Loose Ends" (1974).

Like A Rolling Stone
A Bob Dylan song recorded June 15–16, 1965, released as a single on July 20, 1965 and on the album "Highway 61 Revisited" on August 30, 1965.
From "Live at Monterey" – Recorded June 18, 1967.

Live at Winterland Ballroom, San Francisco, California – October 11, 1968.

Live at the Flamingo Club, near Wardour Street, London W1 England on February 4th 1967

All Along the Watchtower
Written by Bob Dylan and recorded November 6, 1967 for his album "John Wesley Harding" (1967). It was also released as a single November 22, 1968.
Recorded January, June–August 1968 and released as a single in the US on September 21, 1968, almost a month prior to the album release on Electric Ladyland October 16, 1968.