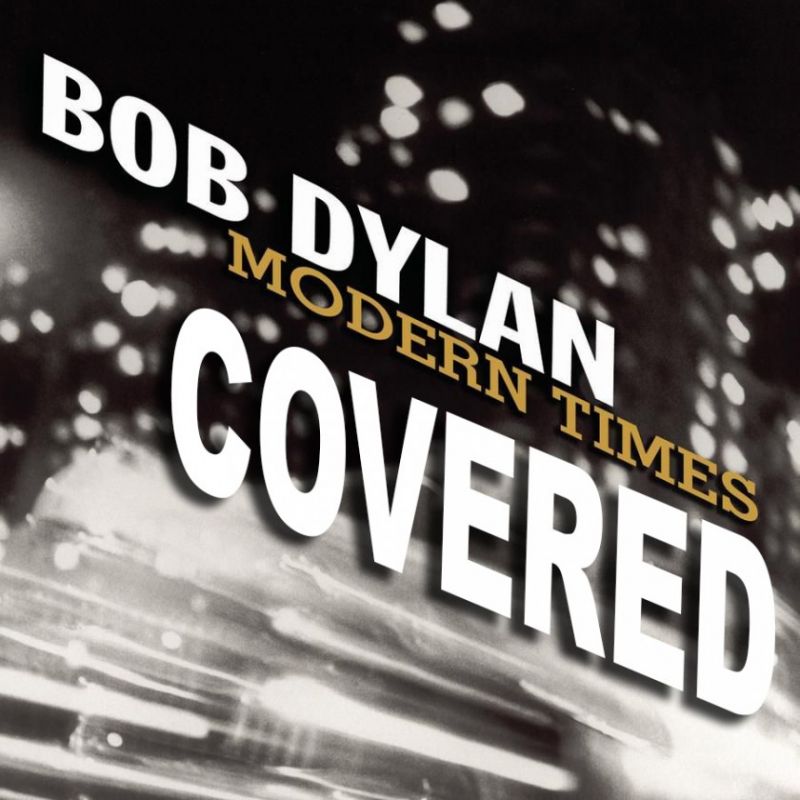 I like the "Bob Dylan period" of Modern Times a lot,  I play it often. I love it, one of the great albums from the first ten years of the 2000s.
This is a post where I have "dug" out some cover versions of the songs on the record, I would say that none of them are as good as the originals, but they're good and they are interesting. Many of the album's songs have roots in well-known older compositions, though in all cases, Dylan has given the songs new lyrics. Some of the "cover versions" I have found are interpretations of the old traditional songs, it wasn't easy to compile this cover selection…
"Modern Times is the thirty-second studio album by American singer-songwriter Bob Dylan, released on August 29, 2006 by Columbia Records. The album was Dylan's third straight (following Time Out of Mind and Love and Theft) to be met with nearly universal praise from fans and critics. It continued its predecessors' tendencies toward blues,rockabilly and pre-rock balladry, and was self-produced by Dylan under the pseudonym "Jack Frost". Along with the acclaim, the album sparked some debate over its uncredited use of choruses and arrangements from older songs, as well as many lyrical lines taken from the work of 19th-century poet Henry Timrod.

Modern Times became the singer-songwriter's first #1 album in the US since 1976's Desire."
– Wikipedia
Lets start!
Wanda Jackson sings a rousing Thunder on the mountain.
here is Wanda Jackson's video of the great Bob Dylan song "Thunder on the Mountain," from her Third Man / Nonesuch Records release, "The Party Ain't Over," features producer and band mate Jack White on guitar (great solo!), along with the Third Man House Band.

Sarah Chesler – Spirit on the water, swedish singer, very nice interpretation from a Dylan tribute show held in 2008 (..and we get a lovely Ring them bells as a bonus):

R. L. Burnside – Rollin' and Tumblin' from a French TV show in 1998. Rollin' and Tumblin' is a blues standard first recorded and possibly written by the bluesman Hambone Willie Newbern. An arrangement very similar to Dylan's but with different lyrics was a hit for Muddy Waters, who is also credited with writing the song. Except for the first verse, all the lyrics in Dylan's version are original.
Tom Jones – When the deal goes down (audio) from his superb album Spirit in the room. When the Deal Goes Down is based on the melody of Where the Blue of the Night (Meets the Gold of the Day), a signature-song for Bing Crosby.

Spotify:

Feist – Someday Baby. Live from 2009 (?). "Someday Baby" is based on an old standard that can be traced back to "Worried Life Blues", recorded by Sleepy John Estes, and made famous in versions by Lightnin' Hopkins and Muddy Waters. It is sometimes referred to as "Trouble No More", and often credited to Muddy Waters.

OM – Workingman's Blues #2. Sung beautiful in a church in Kalmar, Sweden May 3, 2013. The chorus of "Working Man's Blues" features the line, "Meet me at the bottom, don't lag behind, bring me my boots and shoes." The unusual phrasing appears to have been borrowed from cool jazz singer June Christy's 1946 song "June's Blues", which contains the words, "Meet me in the bottom, bring me my boots and shoes". Dylan has showed an affinity for Christy's music, and played a number of her songs throughout the course of his Theme Time Radio Hour XM program. The line also appears as "Meet me in the bottom, bring me my running shoes", in the Willie Dixon song "Down in the Bottom" (it itself an adaptation of "Rollin' and Tumblin'"), recorded by Howlin' Wolf. A similar variant appears in Big Joe Williams's song "Meet Me Around the Corner" ("Meet me around the corner, bring me my boots and shoes"). I also think it gives a nod to Merle Haggard's Workingman's Blues.

Austin Durack – Beyond the horizon (instrumental). Beyond the Horizon is based around the song Red Sails in the Sunset, written by Jimmy Kennedy and Hugh Williams in 1935 using its melody and basic structure. Fats Domino had a huge hit with the song. Dylan wrote new lyrics and changed the lyrics.

Sal Lara – Nettie Moore. Nettie Moore" takes its title, and some of its chorus, from an 1857 composition Gentle Nettie Moore by Marshall Pike and James Lord Pierpont, the composer of Jingle Bells, though Dylan's melody and lyrics are otherwise unrecognizable, although the song shares a rhyme with "Moonshiner", a traditional folk song that Dylan recorded in 1963: "They say whiskey will kill ya, but I don't think it will" vs. "If whiskey don't kill me, I don't know what will

Led Zeppelin / Neil Young – When the leeve breaks. The Levee's Gonna Break is based on "When the Levee Breaks" by Kansas Joe McCoy and Memphis Minnie. It has been previously adapted by rock acts such as Led Zeppelin. The song has also been in the public domain since 2004.

Betty Lavette – Ain't talkin'. Ain't Talkin'" derives its chorus from the more up-tempo Highway of Regret by The Stanley Brothers. The lyrics of the first verse seem to be derived from the first verse of "As I Roved Out", a traditional Irish song.

There are of course many more sources to these songs both musically and lyrically, I have just scratched the surface.
Well, you have to understand that I'm not a melodist… My songs are either based on old Protestant hymns or Carter Family songs or variations of the blues form. What happens is, I'll take a song I know and simply start playing it in my head. That's the way I meditate. A lot of people will look at a crack on the wall and meditate, or count sheep or angels or money or something, and it's a proven fact that it'll help them relax. I don't meditate on any of that stuff. I meditate on a song. I'll be playing Bob Nolan's "Tumbling Tumbleweeds," for instance, in my head constantly—while I'm driving a car or talking to a person or sitting around or whatever. People will think they are talking to me and I'm talking back, but I'm not. I'm listening to a song in my head. At a certain point, some words will change and I'll start writing a song.
—Bob Dylan (April 4, 2004)
Check out more Full Dylan albums covered: