"Elvis has come out with a record which gives us some of the very finest and most affecting music since he first recorded for Sun almost 17 years ago"- Peter Guralnick (Rolling Stone Magazine 1971)

"…Elvis was at his peak when he cut Elvis Country. Actually, Elvis Presley was positively on a roll at the time. A decade after the end of what were thought to be his prime years, he was singing an ever-widening repertory of songs with more passion and involvement than he'd shown since the end of the 1950s…"
~Bruce Eder (allmusic.com)
Elvis Presley – Funny How Time Slips Away (Willie Nelson):

Wikipedia:
| | |
| --- | --- |
| Released | January 2, 1971 |
| Recorded | June and September 1970 |
| Genre | Rock |
| Length | 38.49 |
| Label | RCA Records |
| Producer | Felton Jarvis |
Elvis Country (I'm 10,000 Years Old) is the eleventh studio album by Elvis Presley, released on RCA Records (LSP 44600 in January 1971. Recorded at RCA Studio B in Nashville, it reached number 12 on the Billboard 200. It peaked at number six in the United Kingdom, selling over one million copies worldwide. It was certified Gold on December 1,1977 by the Recording Industry Association of America. 

The lead single for the album, "I Really Don't Want to Know" b/w "There Goes My Everything" was released on December 8, 1970 and peaked at number 21 on the Billboard Hot 100, number two on the Adult Contemporary chart, and number 23 on the country singles chart.

Tomorrow Never Comes:

Elvis Presley started a great run with his 1968 Comeback Special, then went on to  the brilliant From Elvis in Memphis , and then the "bonus" album, Back in Memphis), the very good  live abum On Stage, and the studio/live That's the Way It Is in 1970.
And then…
In January 1971 Elvis Presley returned with Elvis Country: I'm 10,000 Years Old, and again the artist was addressing his roots, though with some more modern sounds. This is Elvis at the top of his game and it is one of his best albums.
It is available in several editions, the original single Album version, The FTD version with many outtakes and the Legacy edition that includes the album, Love Letters from Elvis. Love Letters was drawn from the same four days of Nashville sessions as Elvis Country. It also has a few bonus tracks and good liner notes on both the albums, written by Stuart Coleman in 2011.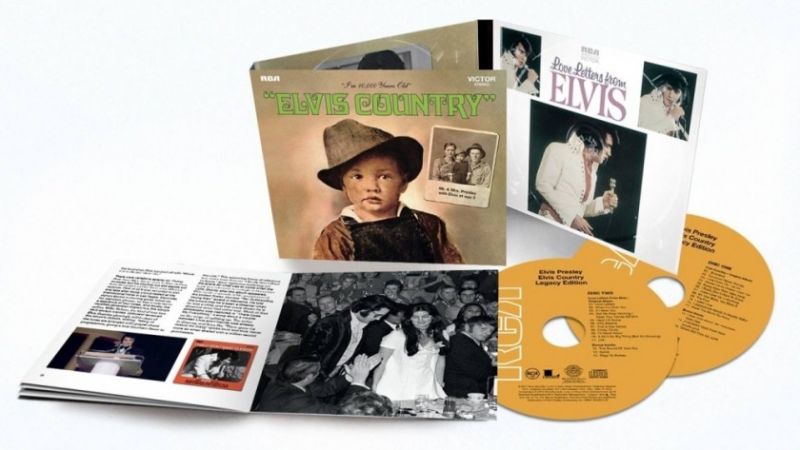 This is The Legacy edition on Spotify