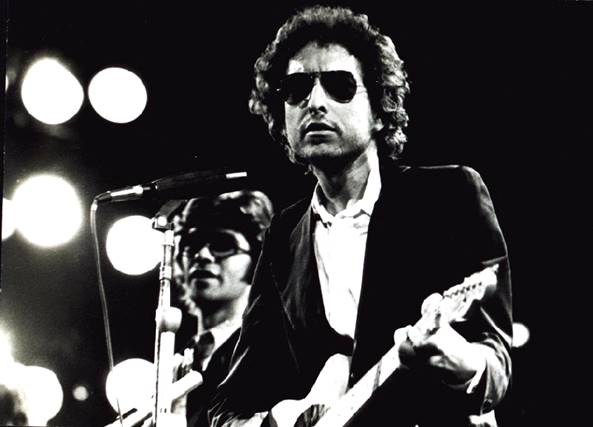 [vc_row][vc_column][vc_message message_box_color="mulled_wine" icon_fontawesome="fa fa-quote-left"]Being on tour is like being in limbo. It's like going from nowhere to nowhere.
~Bob Dylan to John Rockwell, Jan 1974[/vc_message][/vc_column][/vc_row]
I'm not a huge fan of the 74 Tour, but it had its moments.
Facts from Wikipedia:
| | |
| --- | --- |
| Start date | January 3, 1974 |
| End date | February 14, 1974 |
| Legs | 1 |
| No. of shows | 40 |
The Bob Dylan and the Band 1974 Tour – often referred to as Tour '74 – was a two-month concert tour in early 1974 that featured Bob Dylan, in his first real tour in eight years, performing with The Band.

The 40-concert, 30-date, 21-city tour began on January 3, 1974 and ended on February 14, 1974. The show reunited Dylan with The Band on stage after the release of Dylan's Band-backed Planet Waves album. This was a high-profile comeback for both acts. While virtually all the songs here were familiar and might be considered "hits," few of them sound similar to their original versions; Dylan's songs in particular are re-arranged and sung with a ferocity not found on the originals, while Garth Hudson's experiments with the Lowery String Symphonizer (an early synthesizer embedded in the Lowrey H25-3 organ that was adapted from the Freeman String Symphonizer) greatly enriched The Band's timbral palette. A live double album, Before the Flood, was recorded during the tour.
Chicago Stadium
Chicago, Illinois
3 January 1974
Bob Dylan (vocal, guitar, harmonica).
Nobody 'Cept You
[vc_row][vc_column][vc_message message_box_color="mulled_wine" icon_fontawesome="fa fa-quote-left"]There's nothing to me that's sacred
'Cept you, yeah you
There's nothing 'round here I believe in
'Cept you, yeah you[/vc_message][/vc_column][/vc_row]

Boston Gardens
Boston, Massachusetts
14 January 1974 — Afternoon
Bob Dylan (vocal, guitar, harmonica)
Robbie Robertson (guitar)
Garth Hudson (organ, piano and

clavinette

)
Richard Manuel (keyboards)
Rick

Danko

(bass)

Levon

Helm (drums)
Knockin' On Heaven's Door
[vc_row][vc_column][vc_message message_box_color="mulled_wine" icon_fontawesome="fa fa-quote-left"]Mama, take this badge off of me
I can't use it anymore
It's gettin' dark, too dark to see
I feel I'm knockin' on heaven's door[/vc_message][/vc_column][/vc_row]

Boston Gardens
Boston, Massachusetts
14 January 1974
Ballad Of Hollis Brown
[vc_row][vc_column][vc_message message_box_color="mulled_wine" icon_fontawesome="fa fa-quote-left"]Hollis Brown
He lived on the outside of town
Hollis Brown
He lived on the outside of town
With his wife and five children
And his cabin fallin' down[/vc_message][/vc_column][/vc_row]

[vc_row][vc_column][vc_message message_box_color="mulled_wine" icon_fontawesome="fa fa-quote-left"]There are moments on the tour when Dylan seems particularly inspired. The acoustic set from the first show in St. Louis (February 4) is a high point, not only for the songs he was moved to share for the first and only time on this tour ("Hard Rain" and "Desolation Row") but also for the regularly-performed songs ("The Times They Are A-Changin'," "Don't Think Twice," "Just like a Woman"), which sound especially magical on this tape, as though the performer feels himself especially well-listened-to on this day, or for some other reason is in a very giving, creative mood.
–> Paul Williams (Performing Artist 1974-1986)[/vc_message][/vc_column][/vc_row]
Missouri Arena
St. Louis, Missouri
4 February 1974 – Afternoon
Desolation Row
[vc_row][vc_column][vc_message message_box_color="mulled_wine" icon_fontawesome="fa fa-quote-left"]They're selling postcards of the hanging, they're painting the passports brown
The beauty parlor is filled with sailors, the circus is in town[/vc_message][/vc_column][/vc_row]

Alameda County Coliseum
Oakland, California
11 February 1974 – Evening
Bob Dylan (vocal, piano)
Robbie Robertson (guitar)
Garth Hudson (organ, piano and

clavinette

)
Richard Manual (keyboards)
Rick

Danko

(bass)

Levon

Helm (drums)
Ballad Of A Thin Man
[vc_row][vc_column][vc_message message_box_color="mulled_wine" icon_fontawesome="fa fa-quote-left"]You walk into the room with your pencil in your hand
You see somebody naked and you say, "Who is that man?"[/vc_message][/vc_column][/vc_row]

Recommended concerts from 1974
January 14, 1974 – Boston Gardens, Boston, Massachusetts – Afternoon
February 4, 1974 – Missouri Arena, St. Louis, Missouri – Afternoon
February 14, 1974 – Inglewood Forum, Los Angeles, CA – Afternoon
February 14, 1974 – Inglewood Forum, Los Angeles, CA – Evening
[vc_row][vc_column][vc_separator][vc_btn title="Alldylan / Borntolisten @ Facebook" color="blue" i_icon_fontawesome="fa fa-facebook-official" add_icon="true" link="url:https://www.facebook.com/JohannasVisions/||target: _blank|"][/vc_column][/vc_row][vc_row][vc_column][vc_message message_box_style="outline" icon_fontawesome="fa fa-link" css_animation="bounceIn"]Check out:
[/vc_message][/vc_column][/vc_row]
-Egil