The Year 1963 summary
Washington-to-Moscow "hot line" communications link opens, designed to reduce risk of accidental war (Aug. 30). Background: cold war
Kenya achieves independence.
There are 15,000 US military advisers in South Vietnam. Background:
32 independent African nations establish the Organization for African Unity.
"March on Washington," civil rights rally held by 200,000 blacks and whites in Washington, D.C.; Martin Luther King delivers "I have a dream" speech (Aug. 28).
President Kennedy shot and killed in Dallas, Tex. Lyndon B. Johnson becomes President same day (Nov. 22). Background: Timeline of Kennedy tragedies
Lee Harvey Oswald, accused Kennedy assassin, is shot and killed by Jack Ruby (Nov. 24).
–
Beatlemania hits the U.K. The Beatles, a British band composed of John Lennon, George Harrison, Ringo Starr and Paul McCartney, take Britain by storm.
The Rolling Stones emerge as the anti-Beatles, with an aggressive, blues-derived style.
–
Rules:
Only one song per artist/group
The song must be released that specific year
Songs from live albums not allowed (that's another & more complicated list)
Max 20 songs
Please feel free to publish your own favorite songs from 1972 in the comments section…
A Hard Rain's a-Gonna Fall – Bob Dylan
Written by Bob Dylan in the summer of 1962. It was first recorded in Columbia Records' Studio A on 6 December 1962 for his second album The Freewheelin' Bob Dylan – released May 27, 1963. The lyric structure is based on the question and answer form of the traditional ballad "Lord Randall", Child Ballad No. 12.

Louie Louie – The Kingsmen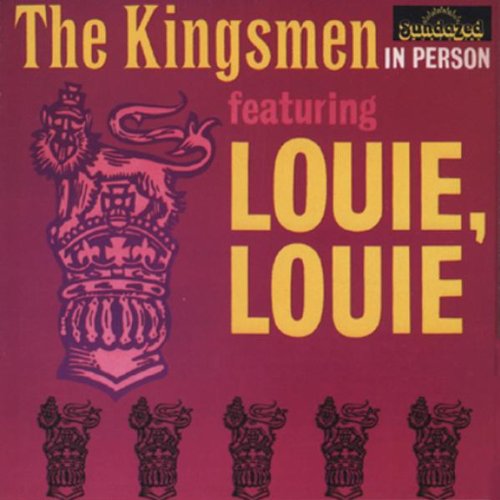 Written by Richard Berry in 1955 and best known for the 1963 hit version by The Kingsmen. It has become a standard in pop and rock, with hundreds of versions recorded by different artists.
The Kingsmen (from Portland, Oregon), recorded "Louie Louie" on April 6, 1963 at Northwestern, Inc., Motion Pictures and Recording in Portland. The session cost $50, and the band split the cost. On September 5, 2013, the city of Portland dedicated a plaque at the site (411 SW 13th Avenue) to commemorate the event.

Be My Baby – The Ronettes
Written by Jeff Barry, Ellie Greenwich, and Phil Spector. It was first recorded and released by American girl group The Ronettes as a single in August 1963 and later placed on their 1964 debut LP Presenting the Fabulous Ronettes featuring Veronica.
In 2004, the song was ranked 22 by Rolling Stone in its list of The 500 Greatest Songs of All Time and described as a "Rosetta stone for studio pioneers such as the Beatles and Brian Wilson," a notion supported by Allmusic whom writes, "No less an authority than Brian Wilson has declared 'Be My Baby' the greatest pop record ever made — no arguments here."

I Saw Her Standing There – The Beatles

Written by John Lennon and Paul McCartney, and is the opening track on the Beatles' debut album, Please Please Me, released in the United Kingdom by Parlophone on 22 March 1963.
It was ranked #139 on Rolling Stone's list of the 500 Greatest Songs of All Time.

Ring Of Fire – Johnny Cash

Popularized by Johnny Cash and co-written by June Carter Cash and Merle Kilgore. The single appears on Cash's 1963 album, Ring of Fire: The Best of Johnny Cash. The song was originally recorded by June's sister, Anita Carter, on her Mercury Records album Folk Songs Old and New (1963) as "(Love's) Ring of Fire". "Ring of Fire" ranked No. 4 on CMT's 100 Greatest Songs in Country Music in 2003 and #87 on Rolling Stone's list of The 500 Greatest Songs of All Time.


In Dreams – Roy Orbison

An operatic ballad of lost love, it was released as a single on Monument Records in February 1963. It became the title track on the album In Dreams, released in July of the same year. The song has a unique structure in seven musical movements in which Orbison sings through two octaves, beyond the range of most rock and roll singers.
Rolling Stone listed "In Dreams" at number 319 of their 500 Greatest Songs of All Time.

Love's Gonna Live Here – Buck Owens

A 1963 single by Buck Owens, who also wrote the song. The single would be Buck Owens' second number one on the country charts spending sixteen weeks at the top spot and a total of thirty weeks on the chart.

Track A – Solo Dancer – Charles Mingus

Released on The Black Saint and the Sinner Lady on Impulse! Records in 1963. The album consists of a single continuous composition—partially written as a ballet—divided into four tracks and six movements.
–

Then He Kissed Me – The Crystals

written by Phil Spector, Ellie Greenwich and Jeff Barry. The song, produced by Spector, was initially released as a single in July 1963 by The Crystals. It is a narrative of a young woman's encounter, romance, and eventual marriage with a fellow youth.

Make The World Go Away – Ray Price

A country-popular music song composed by Hank Cochran. The original version of the song was recorded by Ray Price during 1963. It has remained a country crooner standard ever since.

Sing A Sad Song – Merle Haggard

Merle's first single released in 1963.

Fingertips, part 2 – Stevie Wonder

A 1963 number one hit single recorded live by "Little" Stevie Wonder for Motown's Tamla label. Wonder's first hit single, "Fingertips" was the first live, non-studio recording to reach number one on the Billboard Pop Singles chart in the United States since Johnny Standley's 1952 comic monologue "It's in the Book".

Detroit City – Bobby Bare

Written by Danny Dill and Mel Tillis. Bobby Bare's version was released in 1963.

Christmas (Baby Pleas Come Home) – Darlene Love

A Christmas holiday song originally sung by Darlene Love and included on the 1963 Christmas compilation album, A Christmas Gift for You from Philles Records. The song was written by Ellie Greenwich and Jeff Barry along with Phil Spector, with the intentions of being sung by Ronnie Spector of The Ronettes.

Pain In My Heart – Otis Redding

Pain in My Heart is the debut album of soul singer-songwriter Otis Redding. Redding recorded for Volt Records, a subsidiary of Memphis, Tennessee based Stax Records; Volt LP releases were initially issued on the Atco label, which released this album (with the singles issued on the Volt label).
The song was released as a single in 1963.

Heat Wave – Martha and the Vandellas
A 1963 hit single penned by the Holland–Dozier–Holland songwriting team and made popular by the Motown girl group Martha and the Vandellas. It was originally released in July 1963, on the Motown subsidiary label Gordy, peaking at #4 on the Billboard Hot 100 and #1 on the Billboard Hot R&B chart.

He's So Fine – Chiffons
A recording by The Chiffons which topped the Billboard Hot 100 for four weeks in the spring of 1963. One of the most instantly recognizable Golden Oldies with its doo-lang doo-lang doo-lang background vocal, "He's So Fine" is also renowned as the plaintiff song in the now-infamous plagiarism case against George Harrison's "My Sweet Lord".

On Broadway – The Drifters
Written by Barry Mann and Cynthia Weil in collaboration with the team of Jerry Leiber and Mike Stoller.
The Drifters released their version as a single in 1963.

Six Days on the Road – Dave Dudley
Written by Earl Green and Muscle Shoals Sound Studio songwriter Carl Montgomery, made famous originally by country music singer Dave Dudley. First released in 1963, the song became a major hit that year and is often hailed as the definitive celebration of the American truck driver.

–
Can I Get A Witness – Marvin Gaye
A song composed by Brian Holland, Lamont Dozier and Eddie Holland and produced by Brian Holland and Lamont Dozier as a song for American recording vocalist Marvin Gaye, who issued the record on Motown's Tamla imprint in September 1963.

–
Spotify playlist:

–
-Egil