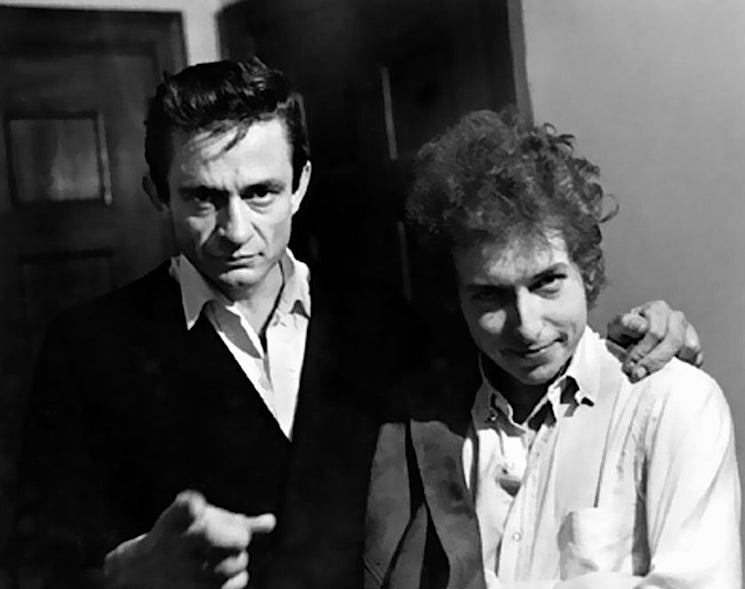 [vc_row][vc_column][vc_message message_box_color="mulled_wine" icon_fontawesome="fa fa-quote-left"]I like Johnny Cash a lot. I like everything he does really.
-Bob Dylan (Autumn 1965 – Nat Hentoff (The Playboy) Interview)[/vc_message][/vc_column][/vc_row]
John R. "Johnny" Cash (born J. R. Cash; February 26, 1932 – September 12, 2003) was an American singer-songwriter, guitarist, actor, and author. He is one of the best-selling music artists of all time, having sold more than 90 million records worldwide. His genre-spanning songs and sound embraced rock and roll, rockabilly, blues, folk, and gospel. This crossover appeal won Cash the rare honor of being inducted into the Country Music, Rock and Roll, and Gospel Music Halls of Fame.
[vc_row][vc_column][vc_message message_box_color="mulled_wine" icon_fontawesome="fa fa-quote-left"].. Johnny was and is the North Star; you could guide your ship by him – the greatest of the greats then and now. I first met him in '62 or '63 and saw him a lot in those years. Not so much recently, but in some kind of way he was with me more than people I see every day.
~Bob Dylan (Statement on Johnny Cash – Sept 2003)[/vc_message][/vc_column][/vc_row]