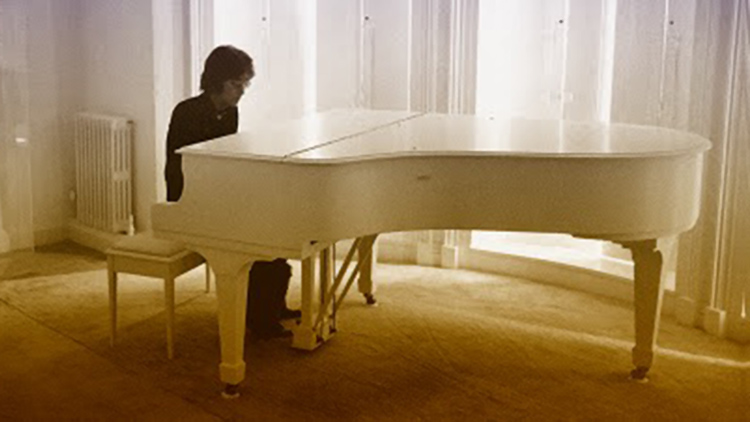 "Now and Then" (sometimes referred to as "I Don't Want to Lose You" or "Miss You") is an unfinished song by John Lennon, recorded in 1978 as a solo piano/vocal demo. After his death, it was considered as a third possible reunion single by his former band, the Beatles, for their 1995 autobiographical project The Beatles Anthology, following "Free as a Bird" and "Real Love".
Lennon wrote "Now and Then" in the late 1970s. He recorded the unfinished piece of music in a demo form at his home at the Dakota Building, New York City, 1978. The lyrics are typical of the apologetic love songs that Lennon wrote in the latter half of his career. Despite reports, for the most part the verses are nearly complete, though there are still a few lines that Lennon did not flesh out on the demo tape performance

I think it's already, in this form, a beautiful melancholic ballad. Full of sadness about estranged friends and lost possibilities, and hope.
In January 1994, Paul McCartney was given two tape cassettes by Lennon's widow Yoko Ono that included home recordings of songs Lennon never completed or released commercially. The songs on one of the tapes included the eventually completed and released "Free as a Bird" and "Real Love". The two other songs on the other tape, marked: For Paul, were "Grow Old With Me" and "Now and Then"
"He's like a brother. I love him, families – we certainly have our ups and downs and our quarrels. But at the end of the day, when it's all said and done, I would do anything for him, and I think he would do anything for me." – John Lennon (talking about Paul in his last interview, Dec 8, 1980)
In March 1995, the three surviving Beatles began work on "Now and Then" by recording a rough backing track that was to be used as an overdub. However, during the next day work on the song ended.
Paul McCartney told Q Magazine (Nov, 2006):
There was one more that we didn't do, which was a pity. It didn't have a very good title, it needed a bit of reworking, but it had a beautiful verse and it had John singing it. But George didn't wanna do it.
There is also a video clip of Paul talking about it at the start of this video (the same demo as above but with inferior sound), Since 2006 there has been speculation that McCartney intends to complete the song, as a Lennon-McCartney composition, which Paul McCartney more or less confirms in the following clip:

There have been made a few fan-edits that gives us an idea what it could have sounded like if they finished it. I love it, it should absolutely be worked on, but it is very, very good.
Fan edit no 1 (I Like this one best, better sound):

Fan edit no 2:
The original lyrics by John Lennon:
I know it's true, it's all because of you
And if I make it through, it's all because of you
And now and then, if we must start again
We will know for sure, that I love you
I don't want to lose you – oh no, no, no
Lose you or abuse you – oh no, no, no, sweet darl'
But if you have to go, away
If you have to go (unintelligible)
Now and then, I miss you
Oh now and then, I (unintelligible)
I know return to me
I know it's true, it's all because of you
And if you go away, I know you (unintelligible)
I don't want to lose you – oh no, no, no
Abuse you or confuse you – oh no, no, no, sweet darl'
But if you had to go
Well I won't stop you babe
And if you had to go
Well (unintelligible)
[vc_row][vc_column][vc_separator][vc_btn title="Borntolisten @ Facebook" color="blue" i_icon_fontawesome="fa fa-facebook-official" add_icon="true" link="url:https%3A%2F%2Fwww.facebook.com%2FJohannasVisions%2F||target:%20_blank|"][/vc_column][/vc_row][vc_row][vc_column][vc_message message_box_style="outline" icon_fontawesome="fa fa-link" css_animation="bounceIn"]Check out:
[/vc_message][/vc_column][/vc_row]
-Hallgeir
Sources:
Q Magazine
Wikipedia
Documentary on Jeff Lynne
Anthology book and tv-series
Still the greatest: The essential songs of The Beatles' solo careers by Andrew Grant Jackson