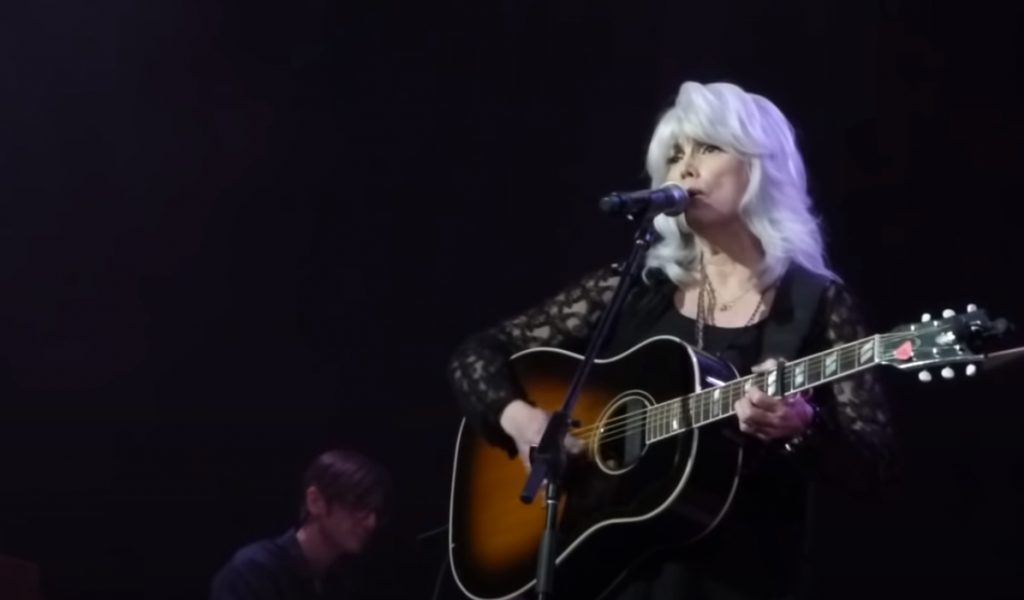 I hear the ancient footsteps like the motion of the sea
Sometimes I turn, there's someone there, other times it's only me
I am hanging in the balance of the reality of man
Like every sparrow falling, like every grain of sand
Emmylou Harris – Every Grain of Sand – The Best Dylan Covers
That was an inspired song that came to me. I felt like I was just putting down words that were coming from somewhere else, and I just stuck it out.
~Bob Dylan ("Biograph" notes)
Every Grain of Sand" is a song written by Bob Dylan, recorded in May 1981 and originally released the following August on Dylan's album Shot of Love. It was subsequently included on the compilation Biograph. An early version of the song, recorded in September 1980 and featuring Jennifer Warnes on backing vocal, was released in 1991 on The Bootleg Series Volumes 1-3 (Rare & Unreleased) 1961-1991. To me it sounds like and feels like a hymn.
Emmylou Harris recorded the song for her album Wrecking Ball in 1995. It is not better than Dylan's version, but it is one of those rare covers that is up there with the original. The album is fantastic and Harrison requested Lanois services after hearing his work on Dylan's Oh Mercy as well as Lanois's own album Acadie.
Every Grain of Sand sung by Emmylou Harris is a masterpiece.
Youtube (audio):
Spotify:
"The arrangement of Dylan's "Every Grain Of Sand", which originally closed Dylan's 1981's Shot Of Love – and sounded like Dylan was making it up as he went, in a shed – is similarly polished: again, Harris plays against it with a haunted, almost cracking vocal which amplifies the song's vulnerability (in company with Sheryl Crow, she sang "Every Grain Of Sand" at Johnny Cash's funeral in 2003). "
– Uncut magazine

…But "Every Grain of Sand" is something special: the "Chimes of Freedom" and "Mr. Tambourine Man" of Bob Dylan's Christian period. A pearl among swine, it has surety and strength all down the line. Also vulnerability.
~Paul Nelson (from his famous "Rolling Stone Magazine" review of "Shot Of Love" – Oct. 1981)
Every Grain Of Sand – Emmylou Harris. This performance at Dylan Fest Nashville, celebrating Bob Dylan's 75th birthday Birthday, benefitted Thistle Farms on 23 May 2016, Ryman Auditorium, Nashville Tennessee :
"It was, simply, a watershed. Emmylou Harris, with her song sense, acute rhythm guitar playing and set-on-stun gift as a vocal gut-leveler, was suddenly free to find the essence of her gift. The result was an album that shimmered like an oasis in the distance—only this wasn't some illusionary notion. The music was real, nubby and incandescent without being filmy enough to see through."
– Paste magazine (about Wrecking Ball)
Every Grain Of Sand – Emmylou Harris (live, Hardly Strictly Bluegrass festival, 2010):

[vc_row][vc_column][vc_separator][vc_btn title="Borntolisten @ Facebook" color="blue" i_icon_fontawesome="fa fa-facebook-official" add_icon="true" link="url:https%3A%2F%2Fwww.facebook.com%2FJohannasVisions%2F||target:%20_blank|"][/vc_column][/vc_row][vc_row][vc_column][vc_message message_box_style="outline" icon_fontawesome="fa fa-link" css_animation="bounceIn"]Check out:
[/vc_message][/vc_column][/vc_row]