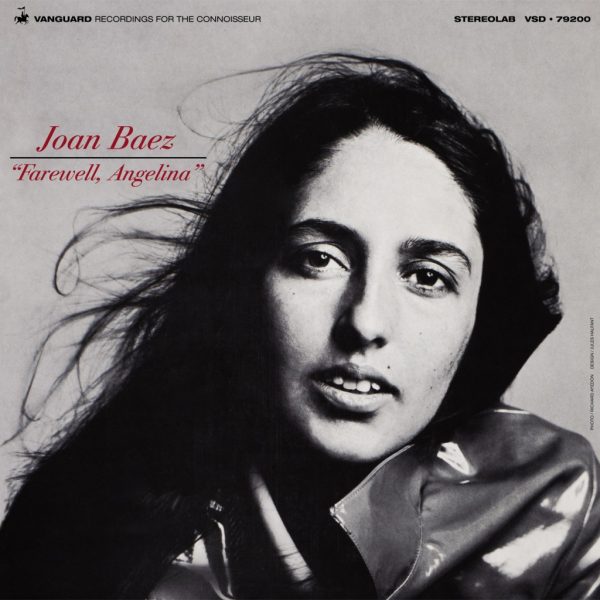 Joan Baez – Farewell Angelina – The Best Dylan Covers
"Farewell Angelina" is a song written by Bob Dylan in the mid-1960s, and recorded by Joan Baez.
Dylan attempted to record "Farewell Angelina" only once, during the first session for his 1965 album Bringing it All Back Home, and he abandoned all attempts to record the song again. Dylan's one recording of the song was eventually issued in 1991 on The Bootleg Series Volumes 1–3 (Rare & Unreleased) 1961–1991.
Joan Baez included this song on her 1965 album Farewell Angelina. In the UK the song was issued at the same time as a single. Baez's version, though only about half as long as Dylan's recording, was very similar in structure and showed her moving away from pure folk music with the use of string bass accompaniment.
I love the "Appalachian feel" that Baez evokes in her interpretation.
Joan Baez – Farewell Angelina (audio, 1965):

The album, Farewell Angelina, represented a further shift from the strictly traditional folk music with which Baez had begun her career in that, for the first time, she included electric backup in the form of Bruce Langhorne's electric guitar (which was nonetheless subtle). Additional musicians included Russ Savakus (bass) and Ralph Rinzler (mandolin). The album included four Bob Dylan tunes, including the title song and "A Hard Rain's A-Gonna Fall", as well as a German reading of "Where Have All the Flowers Gone".
In the UK, Farewell Angelina, the song was issued as a single on Fontana Records.
The 2002 reissue of the album by Vanguard features three previously unreleased additional tracks from the Farewell, Angelina sessions: "One Too Many Mornings", "Rock, Salt, And Nails", and "The Water Is Wide".
"…her sixth album is top-heavy with Bob Dylan songs, including the title track, which he never officially recorded — on that basis alone, it attracted a lot of attention from his fans — and her epic rendition of "A Hard Rain's a-Gonna Fall," which can stand up next to Dylan's own for sheer, sustained power, and her falsetto-driven performance of "It's All Over Now, Baby Blue" didn't hurt in that department."
– Bruce Eder (Allmusic)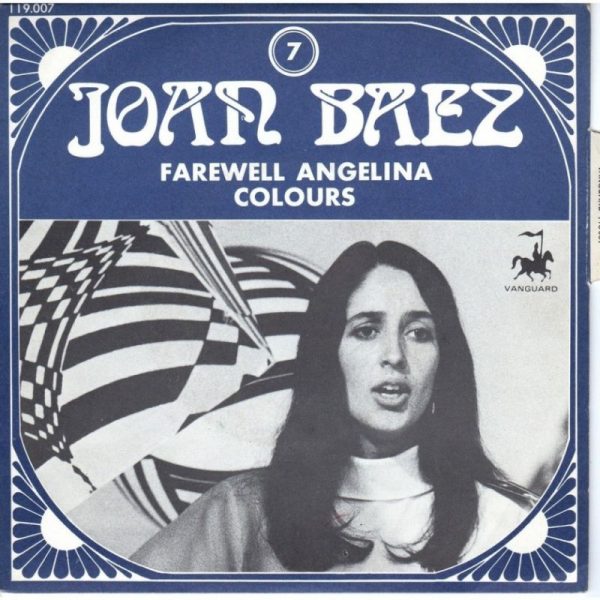 Joan Baez – Farewell Angelina (Live 1966):

In more recent times "Farewell Angelina" has remained a continuous part of Joan Baez' concert repertoire, being recorded twice for live albums during the 1980s.
[vc_row][vc_column][vc_separator][vc_btn title="Borntolisten @ Facebook" color="blue" i_icon_fontawesome="fa fa-facebook-official" add_icon="true" link="url:https%3A%2F%2Fwww.facebook.com%2FJohannasVisions%2F||target:%20_blank|"][/vc_column][/vc_row][vc_row][vc_column][vc_message message_box_style="outline" icon_fontawesome="fa fa-link" css_animation="bounceIn"]Check out:
[/vc_message][/vc_column][/vc_row]